It's been over a year since rose quartz or blush pink was named color of the year (and hit the ground running), and I still can't get enough of it! I am so obsessed with Blush that it has carried over into all things Fall and I think it will carry over into the Winter as well. It's a great neutral and pairs wonderfully with grey, black, brown, and even plum or burgundy. Frankly I think it's here to stay!
I'm still Blushing for…
Warm Entryways
The first time I saw this entry way, I was sold. I had to paint something in my house this color. This inspired me to paint my entire entry way blush pink. Every time I come home and walk through my front door I am welcomed with this peaceful hue that feels like a warm hug.
Crushed Velvet 
Couldn't you just imagine relaxing on this velvet sofa from Anthropologie on a lazy Sunday afternoon flipping through your favorite home decor or fashion magazine? Yes, please.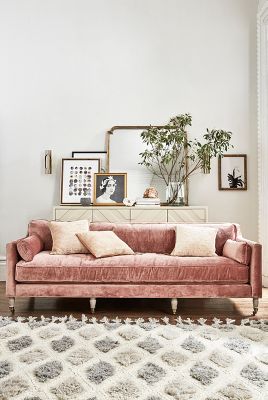 Cute Crockery
How pretty would a pot of boeuf bourguignon be bubbling away in these pink La Crueset pots? Copper is so hot right now in the kitchen and this would be such a pretty compliment to your copper and rose gold kitchen accessories.

Casual Weekend Wear
Love this short duster jacket for a great weekend look. A perfect topper to those skinny jeans with cute tennies or your favorite boots.
Perfect Ballet Flats
I love my pewter Tieks and would love another pair, but choosing another color has always been daunting. I think this could be the color, the perfect neutral!
Crossover Bags
This purse in blush is perfect for weekend errands, but still sophisticated enough that it would look great with work wear. Again this color is such a perfect neutral, it works here with grey, but would work with black (of course), camel, denim, you name it!
Blissful Beauty
OPI's "You're Blushing Again" has to be the perfect blush nail lacquer. It may be a little light for Fall and Winter, but I think you can get away with it for a bit longer! Some other colors I like in the same family are Essie's "Lady Like" and Orly's Color Blast in "Nude Creme."
Bridal Themes
The Fab Mood has some great themed ideas for a blush and black wedding color scheme including blush bevvies, favors and even blush macaroons!
Whimsical Balloons
How cute is this rose gold mylar balloon, perfect for a wedding, birthday, valentines day, or really any day? You can find this adorable 40″ script balloon on Etsy.
I hope you are still Blushing as much as I am!