With entertaining upon us for the holidays, who doesn't need a refresher on how to put together the perfect Cheese Board. Whether you go full charcuterie, vegetarian or vegan, I have collected some great inspiration that will surely be a go to guide for this entertaining season.
Selecting Your Cheeses
Bon Appetit offers a great video on how to select a variety of cheeses. It's recommended that you offer a mix of different types of cheese including mixing up the types of milk (cow, goat, sheep) and different textures (soft, hard, brie-style, mild, and strong).
Source: Bon Appetit
A Smorgasbord of Delights
This spread has absolutely every component you could possibly imagine for a cheese board — cheese and meats, bread, fruit, crudites, nuts, olives, dips, you name it. Domino offers 16 great ideas to spruce up your cheese and veggie platters.
Source: Domino
A Guide
The Everygirl offers up a step-by-step guide for how to put together the Ultimate Cheese Board, including tips on getting to know your local Cheesemonger and creating a theme for your flight of cheeses. Can I have a fig with a dollop of goat cheese now, please?
Source: The Everygirl
Charcuterie Boards
This board definitely focuses on meats and complimentary cheeses and garnishes. Cured meats like prosciutto, salami, and pepperoni are great options to start with.
Source: Pinterest
Crudites Anyone?
For a vegetarian option, go to town with a beautiful rainbow selection of fruits and vegetables to create an epic meatless cheese board. Don't forget to add some savory components like spiced nuts.
Source: Heather Christo
Go Vegan
A great way to go vegan is to offer a variety of hummus and non-dairy dips and, of course, loads of fruits and veggies, crisp crackers and egg-less breads (sourdough to name one, yum). Nuts and olives are great here too (oh, and don't forget a little dark chocolate).
Source: The Healthy Hour
You can definitely splurge and break the bank to create a spectacular cheese board. If it's in your budget, go all out, visit a specialty shop or Whole Foods. If you need to go the budget route, you can't go wrong with Trader Joe's!
Presentation
To create an amazing display, you can choose a variety of vehicles — wood, marble, slate, or your favorite platters or china. You can choose a style that best suits your design style and home decor — Modern, elegant, or farm-to-table. World Market, Pier One, and Crate and Barrel are great resources for a vast selection of items. Many discount retailers like Marshall's, Ross, and Home Goods also offer a good selection of items for entertaining.
Cheese Knives
Modern Marble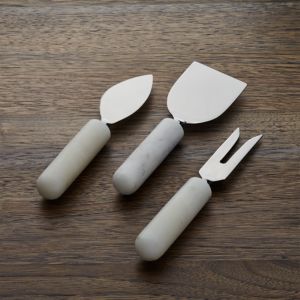 Elegant Gold
Rustic Farm-to-Table
Boards & Platters
Smooth Modern
Eclectic Elegant
Classic Farm-to-Table
Cheese Markers
Modern Simplicity
Elegant Arrows
Branded Farm-to-Table
If you want to get crafty, you could even make your own chalkboard markers. Chalkboard spray paint is easy to find these days at your local hardware store.
I hope you found some inspiration and are ready to start entertaining this holiday season. I can't wait to share more holiday ideas. I am getting giddy just thinking about crafting, decorating, baking, and hopefully entertaining…in Style!