I've been to the snow one real time, cross country skied once, and hardly have any clothes warm enough for real cold weather, but I have the usual case of you want what you can't have. As much as I love living in California with the mild weather, sometimes I think it would be so nice to have a classic Christmas in the snow with all the traditional fixings (Vermont perhaps?). Hot chocolate, sleigh rides, bundling in blankets by the fire, singing carols, you know, all the stuff Hallmark movies are made of.
I can't even remember the last time I used traditional reds and greens in my holiday decor, but somehow a snowy woodland ski lodge Christmas sounds so welcoming, like a big hug!
If it's your dream too, let's take a little tour of all the best parts of this fantasy!
Our accommodations
If I drove up to this county home for the weekend, I am not sure I would ever want to go home.
Source: Ashley Dru
Perfect Alpine Decor
Walking into our country home, we are enveloped with wonderfully welcoming country ski holiday decor. This might be more than you would do at your home, but 'tis the season!
Source: The Lilypad Cottage
Sledding in Style
Time to get out in the snow and enjoy nature's wonder…our Sled decked out for a perfect winter picnic.
Source: KCyang888
Time to go skating
We can't forget to stop by the ice pond for a few laps around the ice.
Source: Indigo Dreams
Visiting the Locals 
After sledding and skating, we must stroll back by the stables and barn and say hello to the horses.
Source: Shabby in Love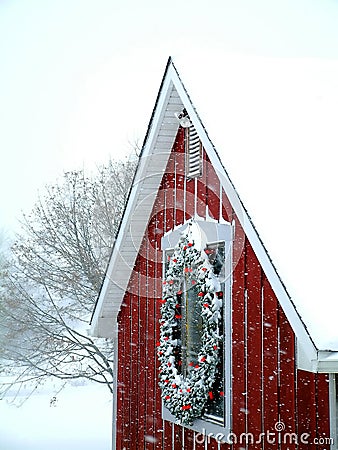 Source: Dreamstime
Perfect Hot Chocolate
After a packed afternoon out in the snow it's time to head back and have some hot cocoa and cookies.
Source: Media-Cache-akO
The Perfect Homemade Hot Chocolate Recipe
1 Tablespoon Hershey's cocoa powder
1/2 cup white sugar
1 3/4 cups skim milk
1/4 cup skim milk (to be used separately from other milk)
Full Directions available at UnskinnyBoppy
Wonderful Aromas
And of course the whole place smells exactly like what you imagine the holidays should smell like, yet you are not at World Market, and better yet you can make your real house smell just the same! I can assure you, I will be making this a few times before Christmas.
Source: Half Baked Harvest
Blankie Time
Grab the nearest Pendleton wool blanket and curl up on the sofa for an evening in front of the fire.

Source: Craftberry Bush
Nighty Night
Grab your flannel PJ's and cozy in for the night in this amazing bedroom wallpapered with a snowy winter forest. Sweet dreams!
Source: One Kind Design
Thank you for joining me in my fantasy, we can always keep dreaming or add a few touches to our decor keep this fantasy alive. There are so many ways to keep Living Life Styled. Until next time…