Nerd Alert! Yes, I love office supplies! By day I am a bean counting super hero, so I have a love for ledger paper, mechanical pencils, and even some crazy contraptions you may have never seen in your life! Basically the thing is, that a lot of older and vintage office supplies have amazing lines and mimic the design styles of each era. From colors to form, office supplies followed the trends of the times.
Even with all of our high tech gadgets, there has definitely been a resurgence with a nod to Mad Men style over these past few years, but for me it goes way deeper. There was a period of time where I was all consumed with the 1940s and 50s, so combined with being an Accountant there is a strong connection to these classic utilitarian supplies and devices.
Many of these items were modern, urban, and industrial in feel so it's no wonder some of these items have made a big come back with the younger crowd.
Present & Correct is one of the most beautifully photographed sites that highlights an affair with office supplies. Even paper clips can look like shiny baubles you want to touch.
Source: Present & Correct
Erasers can look like little gems and baubles!
Source: Present & Correct
Source: Spydersden
Urban steel is perfect for today's minimalist modern designs. Grey is a classic color for metal office and desk supplies, but they can be updated with bright colors by having them painted by a auto-detailer or even good quality spray paint.
Source: 1StopRetroShop
Gold has even made a come back in classic office staples (literally). I have this gold Swingline stapler at home and in my office at work along with these gold clips. They just make your paper stacks a little bit more meaningful. Everyone in my office knows that if they get a gold clip they are special!
You can find this Limited Edition Swingline stapler at Target here. Nate Berkus brought this back with his line of office supplies at the popular chain store.
More metallics…how cool is this desk calendar?
Source: Country Living
Or this deco space-aged pencil sharpener circa 1933?
Source: Intellego.fr
Writing instruments aren't forgotten.
Source: fountainpennetwork
Source: twitpic
We can't forget items chiseled into wood perfection.
Source: Present & Correct
Styles such as these classic pencil cases are even being reproduced these days.
Source: Etsy
Source: The Endearing Designer
And then there are all of the wonderful office accouterments in Jade-ite green. This color was popular in everything from dishware to autos in the late 1940s and 50s. It's a real favorite of mine. The packaging shown below is a nod to my previous Friday Flair post about packaging.
Source: Country Living
So many items were designed in shades of green. Items a simple as a tape dispenser had great style.
These storage vessels can be seen in today's Shabby Chic decor and at stores like Anthropologie.
I can't leave out classic student desks; kids today couldn't even imagine being crammed into one of these all day long.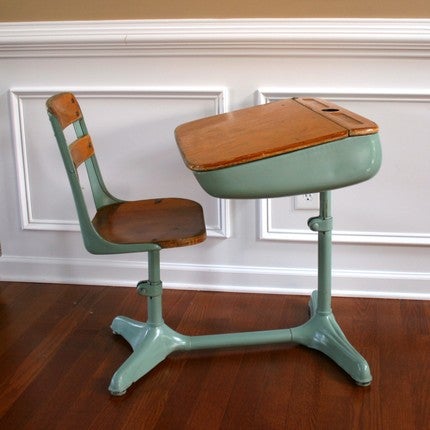 Source: Gizmodo
Search Etsy and Ebay for your own vintage finds.
Now, my prized vintage office item, I have run across vintage check writers several times at vintage shows including Goat Hill , but only more recently purchased one at a local antique store. These have even been featured on Houzz of all places (see everything old is new again)!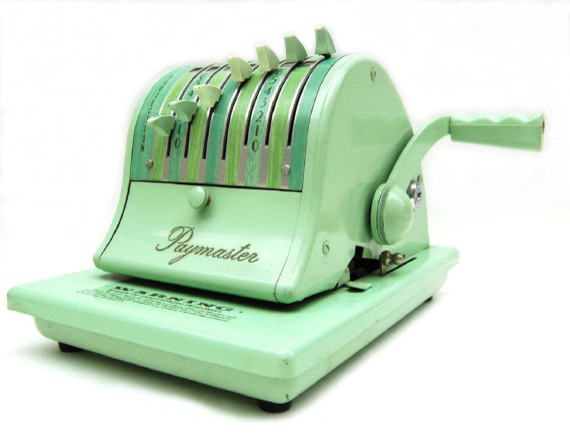 Source: Houzz
Mine is proudly displayed in my corner cabinet in my office and catches the eye of many visitors.
I hope you are inspired to incorporate a few vintage items with all of your high tech gadgets. It just makes work a little more fun!
I know it took me awhile to come back after New Year's but with this being the busiest time of year for a bean counter like me, I've had to get my ducks in a row to get life organized after the holidays and ready for the work load for the next few months.
I have a lot of great ideas I want to share with you, so until next week! I hope you are doing great with your resolutions and looking for ways to keep Living Life Styled!